2022 Hyundai IONIQ 5 on Rhode Island for Sale near Providence l North Kingstown RI
2022 Hyundai IONIQ 5 on Rhode Island


View Inventory
The 2022 Hyundai Ioniq 5 features a very futuristic exterior design that utilizes sharp corners instead of curves. The minimal front grille and angled profile stand out as visually appealing and will turn heads on the road. The Ioniq 5 is entirely electric and Hyundai's first all-electric only vehicle. Offered in all-wheel drive with sizeable 20-inch alloy wheels, this SUV is undoubtedly capable under challenging conditions. Integrated technology such as a multimedia display available Bluelink system and options for ultra-fast charging make this electric SUV one to watch.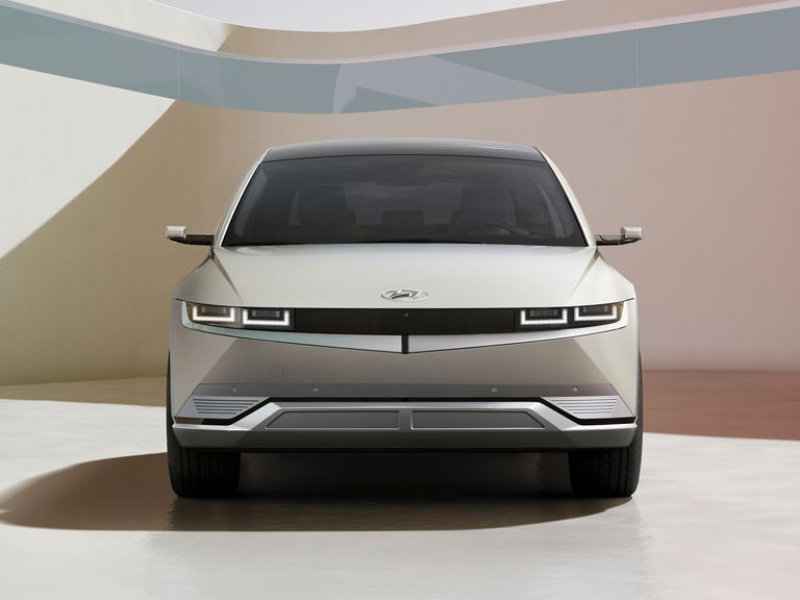 Exterior – Hyundai Dealer serving North Kingstown RI
Hyundai had greater freedom to play with their first electric-only SUV design, and the changes they made provide a sport-inspired look. With both the headlights and taillights, the Ioniq 5 uses a rectangular setup, which is drastically different from other modern body styles. Hyundai wanted to incorporate cues from both a futuristic and retro perspective for a visually exciting vehicle. The door handles are recessed, and you can also equip 20-inch wheels that feature a sculpted aerodynamic look. The fenders also offer subtle lines of motion that follow the contours around the wheel for enhanced visual effect.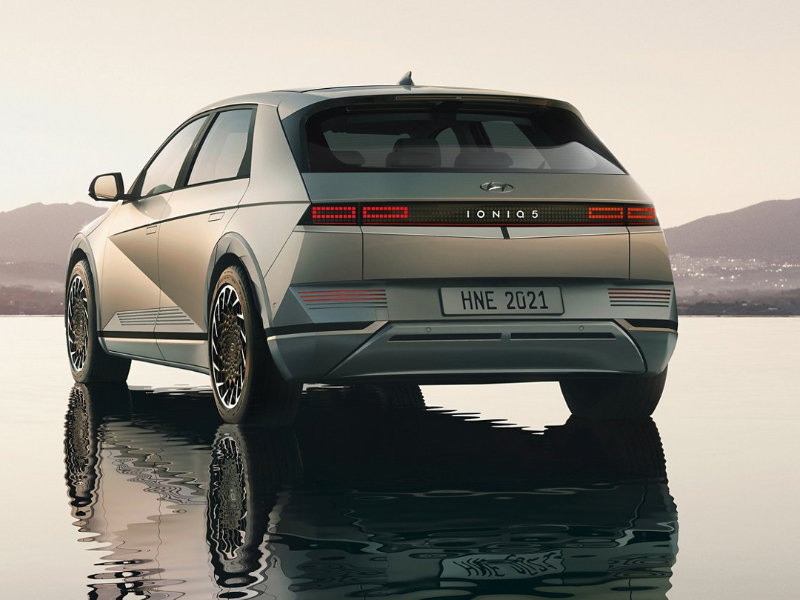 The Ioniq 5 takes advantage of the added space since a gasoline engine isn't present. The extra space allows for a longer wheelbase and level flooring for enhanced passenger or cargo room. The center console can slide to different positions adding even more versatile cabin space. Hyundai has also redesigned the dash to incorporate a unique style and functionality. You can choose the optional Vision Panoramic Glass Sunroof for additional light and stunning views.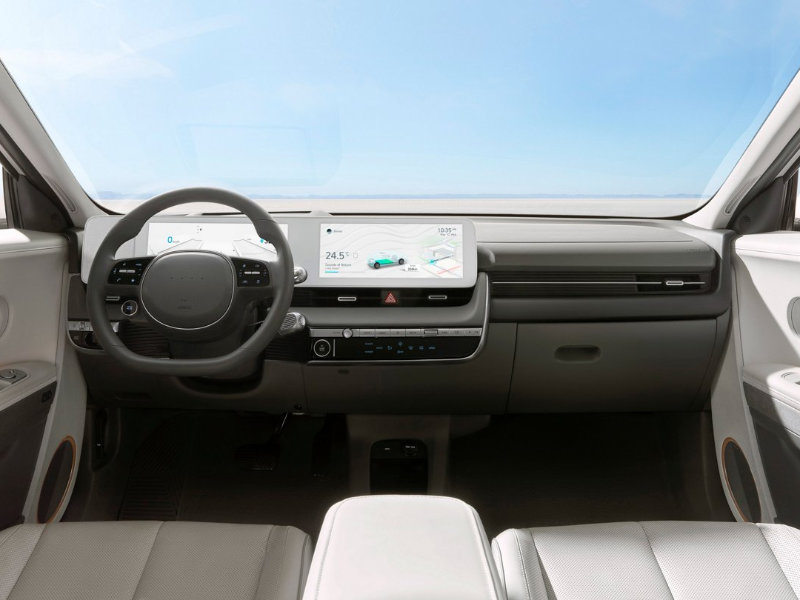 Hyundai IONIQ 5 Mechanical specs
There are two options for your Ioniq 5 concerning power: All-Electric Powertrain Dual-Motor all-wheel drive or All-Electric Powertrain Rear-wheel drive. A 77.4-kilowatt-hour battery generates the power of the Ioniq 5 and provides an impressive 320-horsepower for the all-wheel drive and 225-horsepower for the rear-wheel-drive model. This new electric SUV can travel up to a 300-mile range and utilize quick charging technology for unparalleled travel.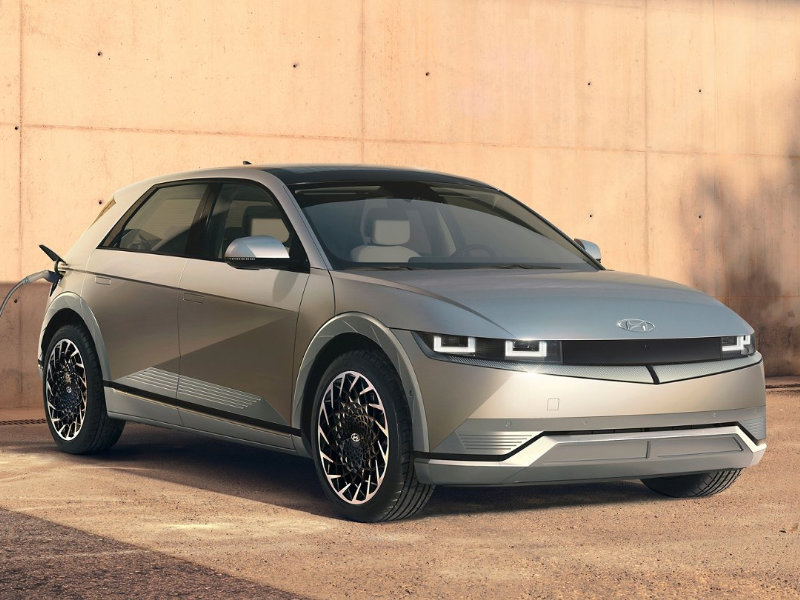 Powertrain – Hyundai Dealership on Rhode Island
Hyundai's all-wheel-drive provides remarkable traction and handling for the Ioniq 5. Additional wheel grip comes in handy when encountering challenging driving conditions such as adverse weather. Electric vehicles don't work with multi-gear transmissions as gasoline models do. Instead, there is usually only one gear which makes for an exceedingly smooth driving experience. To top it off, the Ioniq 5 all-wheel-drive model is capable of 0-60 in under five seconds and can reach a top speed of around 115 miles per hour.
Safety – 2022 Hyundai IONIQ 5 dealer
As with all Hyundai models, the Ioniq 5 comes with Smart Sense technology which aids the driver in avoiding danger during travel. Automatic Emergency Braking, Lane-Keeping, and Smart Cruise Control are just some of the available safety built into the new electric SUV. A head-up display features essential information for the driver on the lower portion of the windshield to prevent looking away from the road. There are even systems available that learn your driving habits, such as spacing between other cars and acceleration behavior, to customize to your driving style.
With the 2022 Hyundai Ioniq 5, the carmaker has crafted its first electric-only vehicle. The look of this electric SUV is one you're not likely going to want to take your eyes off. Sharp corners, squared lighting, and recessed door handles look both classic and prototype at the same time. Extensive displays in the interior dash look like nothing you've seen before. Along with an impressive 300-mile range and a suite of safety technology, the Ioniq 5 is a highly anticipated entry to the market. Nucar Tarbox Hyundai serving North Kingstown Johnston Cranston Rhode Island is the place to see the 2022 Hyundai IONIQ 5 on Rhode Island. Don't miss your opportunity to experience the 2022 Hyundai IONIQ 5 on Rhode Island at Nucar Tarbox Hyundai serving North Kingstown Johnston Cranston Rhode Island.